POWERFUL LIGHTING
The Solar Fence Light provides strong, continuous brightness for up to 18 hours thanks to its 118 premium LED bulbs. The 270° super wide illumination angle offers extra visibility and brightness. Take advantage of the power of the 118 LED solar light instead of settling for weak, inconsistent outdoor lighting.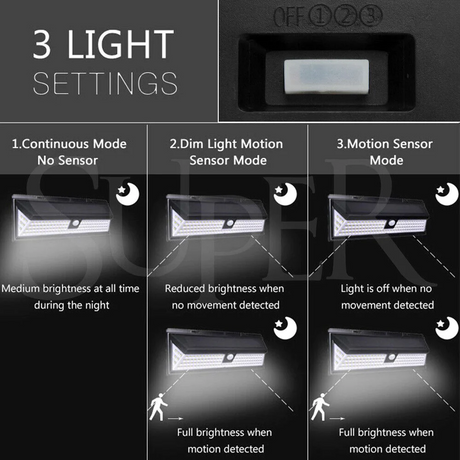 ENERGY EFFICIENCY
The Solar Fence light helps you save money on electricity costs and reduces your carbon footprint due to being both energy efficient and environmentally friendly. Improved solar panels provide faster charging and up to 24% greater power efficiency.
WEATHER RESISTANT
With its sturdy and weather-resistant designing, the Solar Fence Light is made to withstand severe weather conditions. No matter the weather, you can count on it to be reliable and functional all year long, illuminating your outside space brightly and consistently.
EASY TO INSTALL
Installing the Solar Fence Light is simple and takes only a few minutes to be mounted onto any flat surface. It can be set up without the use of any specialised tools or equipment which makes the process straight forward and ideal for those who are always in a rush.
AUTOMATIC OPERATION
The Solar Fence Light provides hassle-free outdoor lighting by automatically turning on at night. You can relax knowing that the light has the feature to automatically turn on and off.